Silver Stars
Instructions for accessing the MEMBERS ONLY section of the club web site.

The following images and words clarify how to access the private area of the Silver Stars Club Web Site. The images on this page are for reference and learning only. The links shown in the images are not active. The real links are on the actual web pages from which these images were copied. For further assistance, please contact Jon Martin at 770-736-0810 or
Web Master
---
Step 1: On the club home page, click on the link labeled "For Club Members Only" on the lower left of the page.



---
Step 2: Click on "ENTER SECURE AREA"


---
Step 3: Enter User Name and the Password you have received via separate communication or obtained from the Club Officers or other Club Members. Checking "Remember my password" will cause the ID and Password to be retained in your computer and make it easier to access the club information on your next visit. This should not be done if your computer is subject to use by non club members or anyone who might compromise our private information.

Click OK to enter the secure area. If not successful, try all this again or wait a few minutes and try again. The server may occassionally be busy or out of order.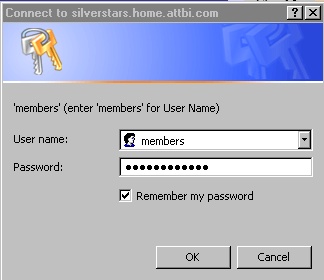 ---
You have arrived at the "For Club Members Only" page where you will find various links to club information.
Some links require that you have the Adobe Acrobat Reader installed on your computer. To see if you have the Adobe Acrobat Reader, try clicking on the link labeled "Bylaws and Standing Rules" and then on the link labeled "Club Bylaws". If the bylaws do not appear or if you get an error message saying that you do not have the correct program to launch the bylaws file, then you need to install the Adobe Acrobat Reader which can be downloaded for free from the Adobe Web Site.

Click HERE to access our instructions for installing the Adobe Acrobat Reader.
Or click this link to go directly to the Silver Stars Home Page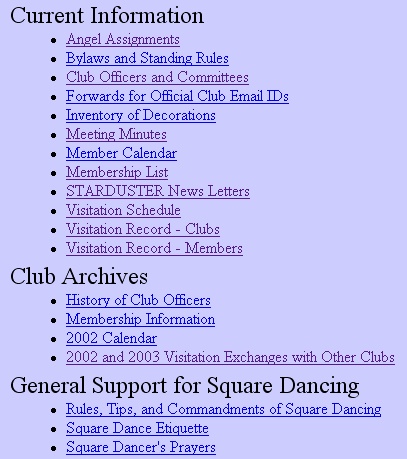 ---